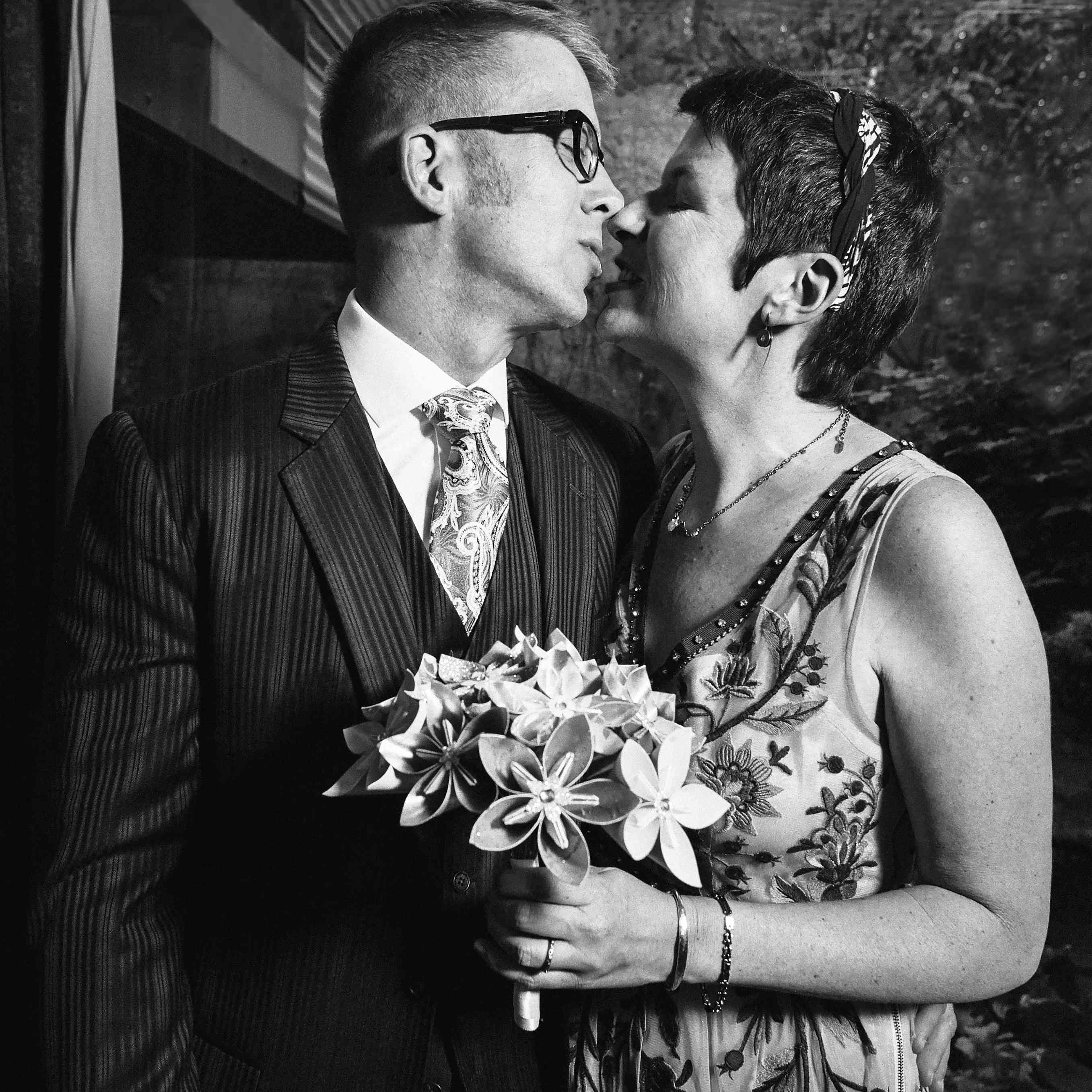 Kate and Neil dubbed their wedding--the second for both of them--The Remix.  Photo by Neal Niemiec.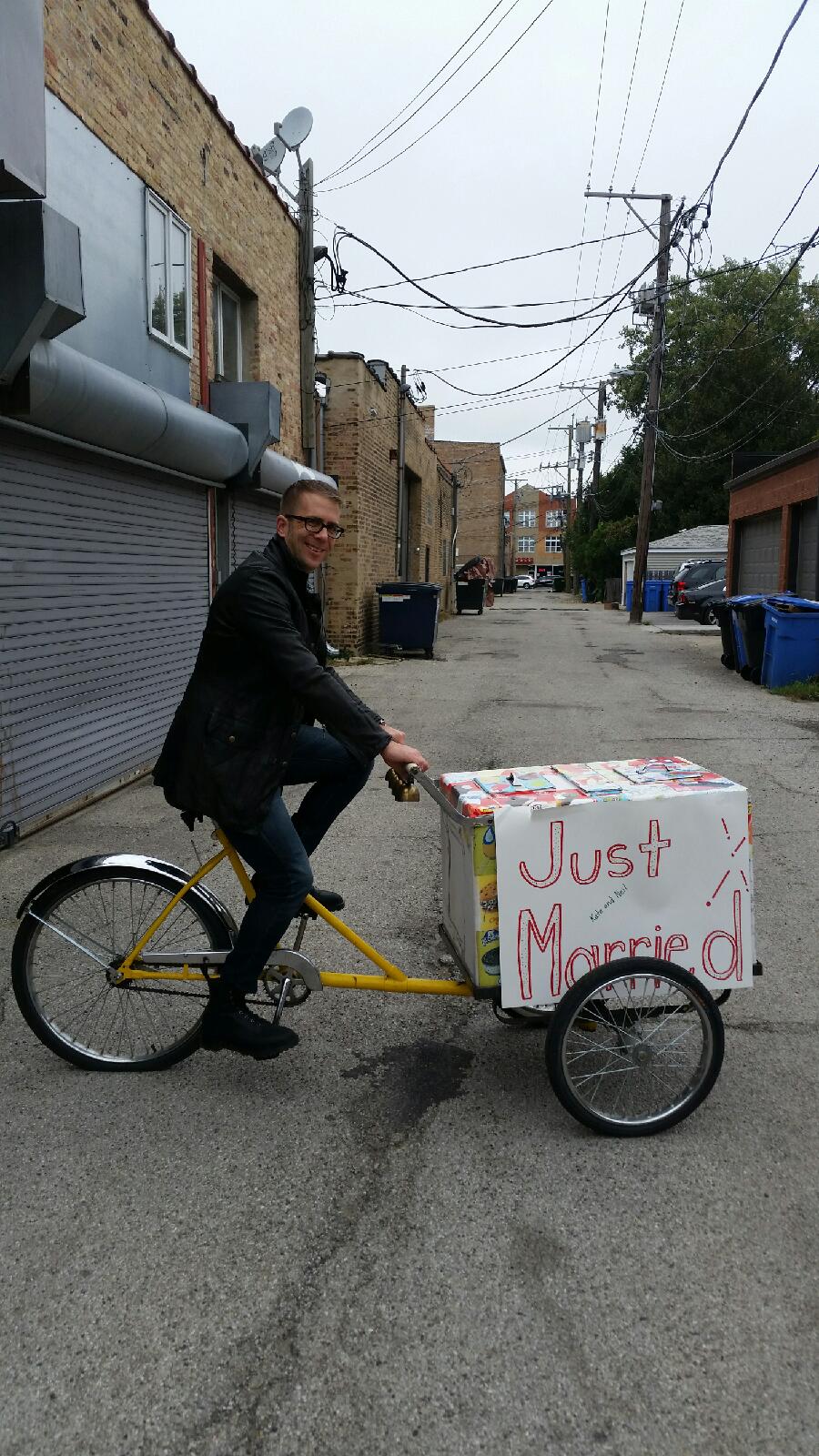 My mom cored a hole in a cabbage, turning it into an artsy DIY vase. My dad stuck chalkboard contact paper—which would soon be a pizza menu—onto our kitchen wall. And I helped arrange flowers from our local grocery store and prepared hors d'oeuvres for the 40 friends and family members who were heading to our apartment to celebrate.
There's something liberating about a second wedding. Not to be crass, but we'd both checked off "responding to societal expectations" with those first weddings and didn't have anything to prove. We'd been living together for five years, so there weren't too many "Mars-and-Venus" (as my mom would say) surprises. We'd attended more than a few weddings and knew what we liked. And because we were footing the bill, ourselves, we had full decision-making power, no guilt, no pressure.
Looking back, the months spent planning the wedding, it turned out, were the easy part. It was getting to that point that took us a while. 
We were in our early 30s when we met through Match.com. From his profile on the site, I knew that NBlikesBikes liked bikes and loved pizza. He knew that I a valued proper grammar and fresh breath. On our first date, at a Cuban restaurant, his radio voice, shy smile and quirks caught my fancy. He listed off the countries where he'd eaten pizza, and detailed how each differed from the other. His love of bikes reached similar obsession levels, I would later learn: his fleet occupied a space the size of a small bedroom in his tiny Chicago apartment.
As two people drawn to the idiosyncratic type, we were, indeed, a match. His devotion to pizza and our shared yearning for travel paired well, as we journeyed to Iceland, France, Austria, Denmark, Costa Rica and Jamaica, sampling pizza—and local fare—in each. I bought a bike, and then traded it up for a better bike, and we rode from Chicago to Canada on a 10-day touring adventure. We were happy with our relationship: committed and optimistic. When asked, as we frequently were, about our future plans, we'd both smile and say we were satisfied with things as they were. 
We'd both married young, while in our early 20s. His lasted through that decade. Mine barely made it two years. Weather-worn and a touch cynical, even as we gelled, this time, marriage wasn't our end goal. As households combined, and my pets became "our" pets, "forevers" filled our conversation, but a wedding still did not.
Until it did.
Approaching our 40s, "boyfriend" and "girlfriend" started to feel flimsy. A friend died tragically. Our dog was diagnosed with cancer and we had to say goodbye to her too soon. It sounds like a cliché to say "life got real," but all of a sudden, a sort of seize-the-day mentality tiptoed into our heads, and the legal and financial protections of marriage began to make sense. It started with "if" we ever get married, testing the waters. Then "if" became "when," and "when" became October 3, 2015.
We dubbed it "The Remix," and set out to make it as fun and personalized as possible, while not breaking the bank. We'd recently moved into a loft that served, in its previous life, as a Rambler car dealership, and our home transformed into a venue that would rival any trendy art gallery setting (after the treadmill desk was deconstructed and the bed hidden in the closet to make room for our guests).
Because the space was tight, and our finances finite, we'd limited our guest list to a couple of handfuls of family members and friends, ensuring that we'd have a chance to talk with everyone in attendance. Our food selection was a foregone conclusion: pizza.  
But not just any pizza. Pizza from four different Chicago pizzerias, with that chalkboard menu highlighting the different styles they represented (New York, Chicago deep dish, Chicago tavern-style and Chicago butter crust). The dessert mobile—that tricycle filled with ice cream and bordered with ringing bells—was the perfect place to attach a "Just Married" poster.
Eight family members looked on as my cousin, Liz, who got her minister's license off the Internet, led a more personal ceremony than a priest or pastor ever could. We'd asked our family to email her their wishes, and Liz shared those wishes with us. My nephews, ages 5 and 7, puffed their chests with pride as they brought us each our rings. And our family looked on, eyes glistening, as Neil and I, eyes glistening, said, "I do."
After a family Champagne toast and photos, our friends showed up—as did 16 pizzas—and the celebration flowed well into the night.
We didn't set out to plan a fairy tale wedding—whatever that is. There was no white dress (it was cream with blue flowers), no tiered cake, no aisle to walk down, no horse-drawn carriage. Rather, we wrote our own script, as you inevitably learn to do with age and experience. By now, we both know that there's a lot of work that goes into "happily ever after." And it's a narrative we're both excited to write every day.