Within the enormous bakery, about two dozen hair-netted employees are hard at work, mixing mountains of dough and then patting it, by hand, into massive, ½-pound balls before it's baked on revolving trays. Last year, the team sold nearly 8 million of these cookies to grocery stores, department stores, and individual customers.
And while that number is something to celebrate, so are these: in 2019, the business turns 40, and its president and CEO, Carol Goldman, turns 75.
The story behind Carol's Cookies is also worth celebrating. Carol never set out to be a businesswoman. When she graduated college, she had a career in social work. Then she married and had two children – Karen and Jeff – less than two years apart, and being a mom became her priority. But she still wanted more. "I wasn't used to being stuck at home because I moved to Chicago as a career girl," she says. "And my gosh, I didn't know what to do with myself."
Growing up, she'd always loved baking – a hobby and skill she learned from her mother. So in the late 1970s, she channeled her extra energy toward baking cookies, perfecting recipes for chocolate chip and oatmeal raisin. She would hand them out at any given opportunity, and people loved the giant, half-pound treats, which were both crispy and chewy, sweet and a little salty. Around that same time, a friend invited Carol to run the snack bar at a local gym, which also provided short-term childcare. There, while the kids played, she made health drinks and sold her cookies. "We had a big sign at the snack bar: 'Put it on, then take it off,'" she laughs.
The popularity of the confection gave her the confidence to approach a local market, with multiple locations, to see if they'd be interested in selling the treats. They were an instant hit, so Carol kept baking and feeding the fan base. Not long after, word of the cookies spread all the way to People Magazine, which named Carol's Cookies among the top in the country (Carol's chocolatier nominated her) in 1983. The orders started pouring in. All of a sudden, Carol had a business. She just had to figure out how to run it.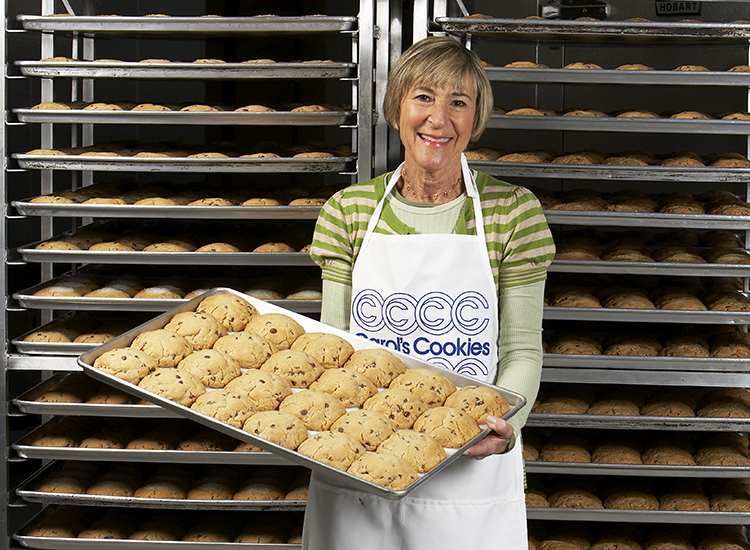 As she learned the ins and outs of being an entrepreneur, the years spun by like sugar. Orders expanded, accounts multiplied across the country, and, as her kids grew older, she moved from her home kitchen into a commercial bakery, and then a larger commercial bakery. In time, her son, Jeff, started working at the bakery. At first, he was just there to help out during the holiday rush after graduating college. But soon he had learned the business from the bottom – showing up at 3:30 a.m. to help Carol make cookie dough – and he found that he and his mom worked well together. While Carol enjoyed the day-to-day responsibilities, Jeff was interested in finding ways to steadily help the business grow.
Sales of Carol's Cookies were old hat to him, after all. When he was in elementary school, he'd secretly started a side business selling his mom's cookies. "When she was baking out of the house, I would pinch off some dough and hide it in the cooler and take some cookies she baked and wrap them in two-packs, and I would bring them to school and sell them out of my locker," he says. Today, as vice president of the company, he has the same pride, but a broader customer base.
"Jeff is very smart," says Carol. "He always had a good business sense."
At 74, Carol – whose grandchildren call her "Cookie" – says she still loves eating her own cookies, and she makes sure to carry a bag of them in the car – she now has 13 varieties to choose from – because you never know when they might come in handy (she may or may not have gotten out of a traffic ticket or three, thanks to those cookies). While she never intended to start a business, she loves the turns her life has taken, and she encourages others to take chances, too. "If you have a passion in life, I really believe you should go for it. It doesn't matter what it is," she says.
As for retirement, it's not even something Carol considers. "I have no thoughts of retiring. I love my business. It's fun. It's challenging. It's my passion."
Success, especially at Carol's Cookies, smells so very sweet.  
Photo credit: Carol's Cookies